Boroline associates with FDCI's India Fashion Week 2016, New Delhi for showcasing of Chandrani Siingh Fllora's new Collection
"Mrityunjay"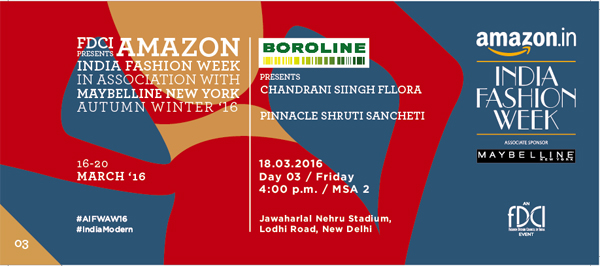 The Fashion Design Council of India ( FDCI) is the apex body of fashion design in India, represented by over 350 members. Founded on the premise of promoting, nurturing and representing the best of fashion and design talent in the country, its prime objective is to propagate the business of fashion.
Why did Boroline decide to associate with India Fashion Week and Chandrani Siingh Fllora in particular?
Chandrani Siingh Fllora approached us and requested if Boroline can be the sponsor for showcasing her new collection, Mrityunjay, at Amazon India Fashion Week.
Boroline agreed for two reasons.
First there is an intrinsic connect between Boroline and Fashion. These are two indispensable arms of the Beauty Triangle. Fashion enhances beauty, Boroline maintains beauty.
The second reason is that Boroline has traditionally been, and still continues to be part of Bengal's life, times and culture. We are happy to be associated with a project which showcases creativity from Kolkata.
Mrityunjay- the collection…. In the designer's own words
"I have named the collection Mrityunjay because it is a tribute to Shiva.
The line is in handloom fabrics and georgettes, with embroidery and prints and motifs like the trident, conch shells, cannabis leaves and tilak. The colours are midnight blue, yellow, white, rust and Boroline green, because the collection is in association with Boroline. This is the first time that I have experimented with handwoven stripes and ombre dyeing techniques.
The styling reflects the hybrid lifestyle we live today and explores the blurring of the difference between formal vs. casual."
Sunil Sethi, President, FDCI said…
"We are proud to associate with the iconic brand Boroline which has its roots in the city of Kolkata. It will be interesting to see how Chandrani Siingh Fllora, our designer from Kolkata reinterprets the age old symbols of Lord Shiva in a modern milieu through inventive thinking and modern silhouettes"
AIFW ramp at Jawaharlal Nehru Stadium, New Delhi